How to manage your managed.hopsworks.ai account#
Introduction#
Managed.hopsworks.ai is our managed platform for running Hopsworks and the Feature Store in the cloud. On this page, you will get an overview of the managed.hopsworks.ai page.
How to get to the settings page and what does it look like.#
From the managed.hopsworks.ai landing page, you can access the setting page by clicking on Settings on the top left.
The settings page contains a menu on the left. The remaining of the page display information depending on the section you have selected in the menu.

Manage the connection to your cloud accounts under Cloud Accounts#
The landing section of the settings page is the Cloud Accounts section. On this page you can edit the link between managed.hopsworks.ai and your cloud provider by clicking on the Edit button (1). You can delete the link and remove any access from managed.hopsworks.ai to your cloud manager by clicking on the Delete button (2). Or, you can configure a new connection with a cloud provider by clicking on the Configure button (3).
For more details about setting up a connection with a cloud provider see the getting started pages for:

Manage your personal information under Profile#
The Profile section is where you can edit your personal information such as name, phone number, company, etc.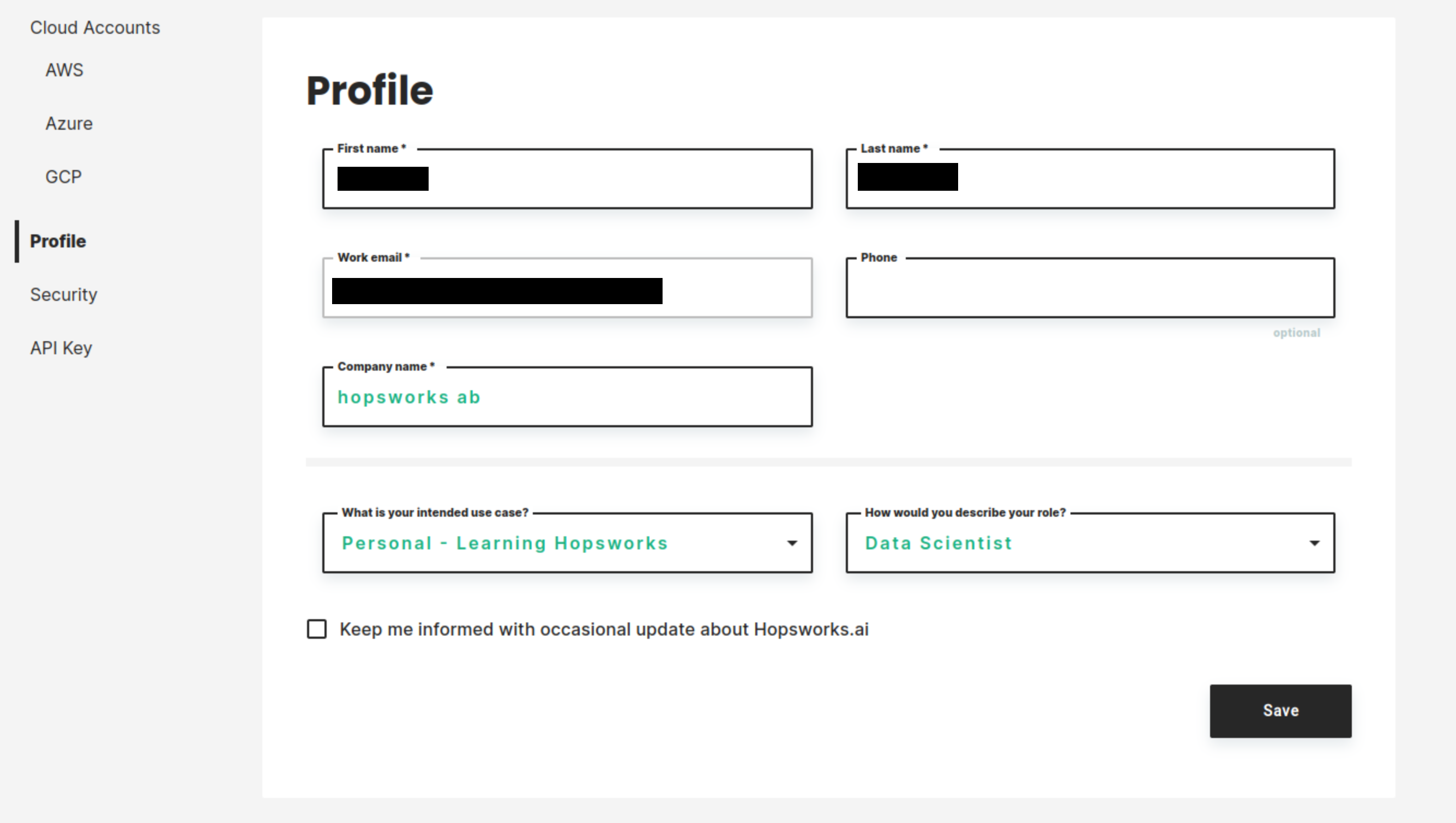 Change your password and configure multi-factor authentication under the Security section#
Change your password#
To change your password, go to the security section, enter your current password in the Current password field (1), enter the new password in the New password field (2), and click on Save (3).

Set up multi-factor authentication.#
To set up multi-factor authentication, go to the security section, scan the QR code (1) with your authenticator app (example: Google Authenticator). Then enter the security code provided by the authenticator app in the Security code field (2) and click on Enable TOTP (3).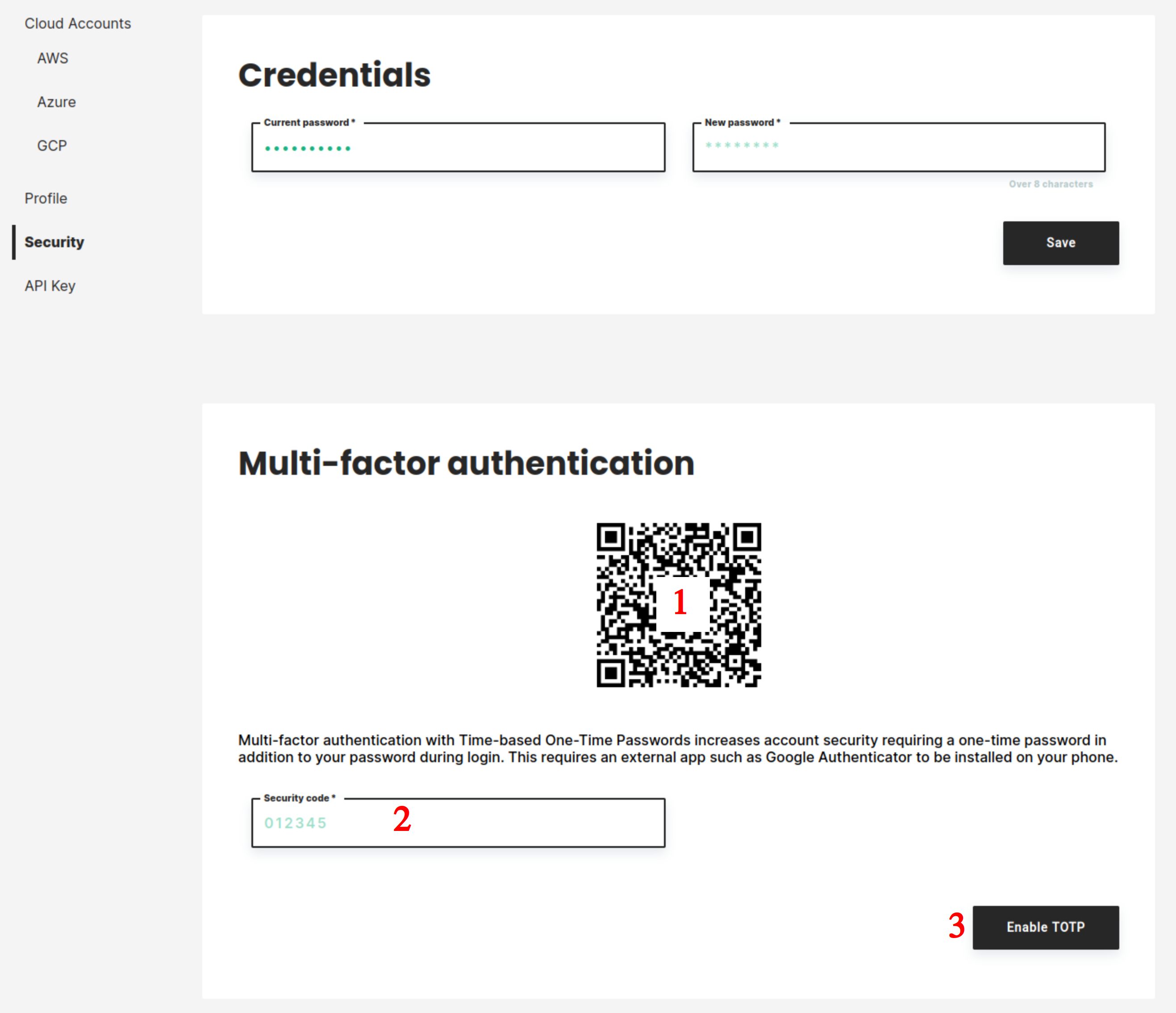 Create and manage API keys under the API keys section#
The API key section is where you create or delete your managed.hopsworks.ai API keys. More details about the API keys can be found in the API keys documentation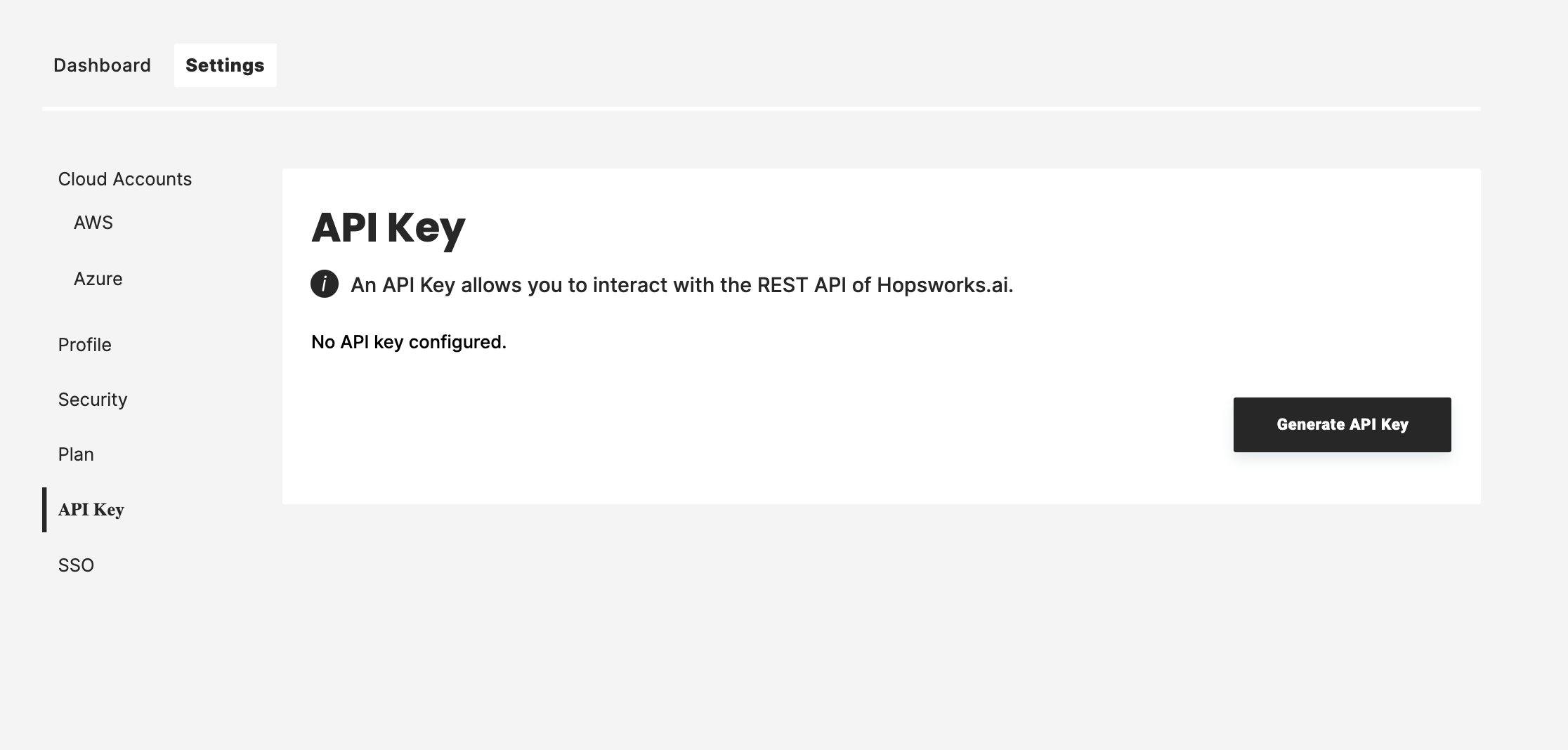 Conclusion#
You now know where and how to update your profile, cloud accounts, and API keys.
To keep familiarizing with managed.hopsworks.ai check the dashboard documentation